Drive Green with the Chevrolet Bolt EV
Saving the planet one Chevrolet Bolt EV at a time! While saving the planet by recycling can be great there are always so many other ways we can contribute to helping the environment every day. The 2019 Chevrolet Bolt EV was nominated as the eco-friendly car of the year. Owning a Chevy Bolt EV has many benefits for the earth and for you.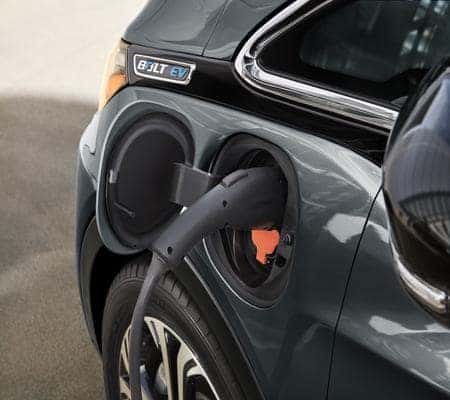 The 2019 Chevrolet Bolt EV has many benefits to the environment such as less pollution, renewable energy, and eco-friendly materials. By choosing the Bolt EV you are helping reduce harmful air pollution from exhaust emissions because electric vehicles have zero exhaust emissions. Secondly, by using renewable energy to recharge your Bolt EV you can reduce greenhouse gas emissions. By purchasing GreenPower from your electricity retailer you can minimize emissions even more. Lastly, owning an electric vehicle like the Bolt EV means that you are driving a car that has used repurposed material for parts of the car.
While it feels great to help the environment it also feels great to help ourselves. Owning a Chevrolet Bolt EV has many individual benefits such as fuel and maintenance savings. The electricity to charge an electric vehicle is a third of what you would spend on a petrol vehicle. To verify fuel savings, you could always use a Fuel Cost Savings Calculator to see for yourself. The Chevrolet Bolt EV is also a lot cheaper to maintain because it does not need regular maintenance such as oil changes and transmission fluid changes.
Overall, the 2019 Chevrolet Bolt is very realistic and practical to own. It gets 236 miles of EPA-rated range on a charge which means lots of savings for you and the environment. The Chevrolet Bolt EV sets itself apart from other electric vehicles because it has a distinctive style packed with a lot of technology and a 2019 5 Star NHTSA safety rating. Some of the technology includes a 10.2inch color touch screen, Apple CarPlay, Android Auto compatibility, and available 4G LTE Wi-Fi hotspot.
The 2019 Chevrolet Bolt EV is a great step forward in contributing to the sustainability of our environment while saving money in the long run. Stop by Castle Chevrolet, located in Villa Park Illinois, and see for yourself why the 2019 Chevrolet Bolt EV is one of the best electric vehicles to own in the market.